Environment´s information
Natural Park Posets-Maladeta is the touristic environment to worth seeing. Its awesome geomorphologic formations, next to the landscape built by the agricultural and livestock exploitations of the populations of its environment, motivated its denomination as Natural Park in 1994. The area of the Natural Park has 33.440 ha, with a Peripheral Protection Area of 5.290 ha, and it includes the municipal terms of Gistaín, San Juan de Plan, Sahún, Benasque and Montanuy. There are three Natural Monuments of the Pyrenean Glaciers, the mountain range of La Maladeta or Montes Malditos, the mountain range Perdiguero and the mountain range of Posets or Llardana.

With more than 70% of surface with upper levels of 1.800 m (varying between 1500 m of the bottoms of the valley and 3.404 m from Aneto), its glacier shapes are worth seeing, such as the moraine and the Pyrenean lakes, as well as the important karstic phenomenon. Besides, there are a big diversity of flora and fauna typical from the bioclimatic parts of the high mountain, with extinction species. It is plentiful of hiking and snow sports.
 
Sahún
Sahún is located in a privileged place inside the Valley of Benasque. Its environment, with awesome views of the highest peaks of the Pyrenean and surrounded by an unique flora which transforms the landscape in a different show every season. Its term belongs to the Natural Park Posets-Maladeta and also to the natural monument of the Pyrenean Glaciers. It keeps its popular architecture and Romanesque remains in its parish which was rebuilt in a Renaissance style. As well as the hermitage of Saint Aventín is Romanesque with its "jaqués" checkered. "The Fallas" ritual where they burn torches in the night of Saint Juan is worthy to see.
Tours
Ten minutes from the ski station of Cerler and five minutes from Benasque and Castejón de Sos. Many Pyrenean lakes, glacial lake, standing out Cregüeña, 1500 m long and 500 m width. Others: Vallibierna, Batisielles, Barbarisa, Perramó…
Activities
Mountain climbing, canyoning, horse riding, climbing, caving, skiing, mountain biking, paragliding, fishing, canoeing, hiking, etc.
WHERE TO GO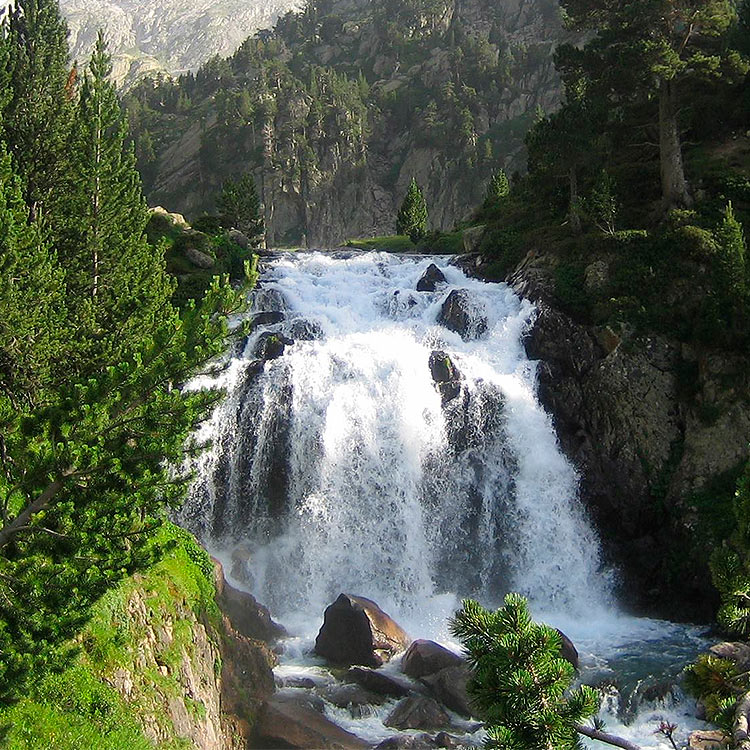 Parque Natural Posets-Maladeta
Sus espectaculares formaciones geomorfológicas, junto con el paisaje conformado por los aprovechamientos agrícolas y ganaderos de las poblaciones de su entorno, motivaron su declaración como Parque Na...

Centro de Interpretación del Románico
La UNESCO ha declarado Patrimonio de la Humanidad el conjunto de iglesias románicas catalanas de la Vall de Boí (L Alta Ribagorça), formado por nueve iglesias monumentales del Pirineo de Lleida.

Durro
Durro es uno de los pueblos del valle de Boí que ha recibido de la UNESCO la merecida denominación de patrimonio mundial de la humanidad. En medio de un esuberanten paisaje, Durro y el conjunto del mu...